Hey there boys and girls, how are you doing this bright and beautiful day?
Personally I am doing awesome.
Why am I doing so awesome? Probably because last weekend I went to South Dakota and hugged a giant tortoise.
Have you ever hugged a giant tortoise? I highly recommend it. It can make your whole day.
Your whole week even.
Even if you aren't a tortoise nut like myself, I still think it could do you a world of good. There is just something about getting up close and personal with something so immense, old, and completely indifferent to you that really puts things in perspective.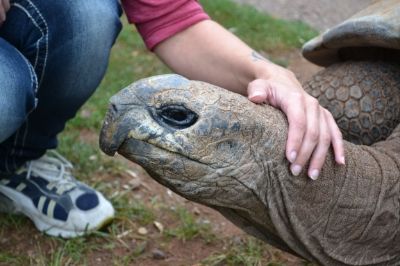 Anyway, so what else did I get up to last week, aside from hugging on gigantic terrestrial chelonian reptiles (there are some science words for you folks)?
I'm so glad you asked.
See last week was my birthday. I won't tell you what age I turned but just know that I'm older than I was but still not quite old enough for the Honored Citizen menu at Shari's or the senior discount at the movie theater (yet AARP keeps emailing me about membership which is a little depressing as it is about 20 years too soon for all that).
The internet was very kind to me on the big day and I got loads of happy birthday wishes on Facebook, Twitter, and through text messages. Sometimes social media is kind of the greatest thing ever. The FatherFigure made me red velvet cupcakes with homemade icing and sprinkles which were divine and then took me out to dinner at Café Italiano up here on the South Hill. It has been a long standing tradition in my family to go to Olive Garden on birthdays, but we wanted to try something new and different (well not that different I guess as it was still Italian food) and went to Café Italiano instead.
Just call us the rebels of the family.
And this rebellion was awesome, cause the food at that restaurant was super tasty. I had the Chicken Parmesan with a salad and sparkling red wine, followed by Black Forest chocolate cherry-infused cake that was so light and sweet that I could have eaten an entire bakery full and not felt terribly guilty. While the meal was slightly more expensive than what something similar would have cost at Olive Garden, I think it was pretty worth it. The ambience was nice, the server was helpful and attentive, and that cake was amazing.
The next day I joined up with some friends to head over to the Spokane County Interstate Fair. We wandered about, watched some mutton-bustin', ate some unhealthy meal options, hugged some horses (that may have just been me) and took a gander at the photos and other artwork on display. The black and white photography is my favorite but I'm fond of the color stuff as well.
If you've never taken the time to look at all the artwork on display you've been missing out. There is some pretty epic stuff floating around in there. I found a 15 foot (if I'm remembering correctly) metal dragon with light-up eyes that I was keen to try and drag home with me. Unfortunately it weighed over a ton and logistically that just wasn't happening.
But if anyone wants to get me a belated-bday present and knows the guy who made that dragon, I'd be happy to give him a good home still.
Though I'm not sure how my tiny/tall roommate would feel about that. Hrm.
A couple days after the fair I jumped in the car and took off for four days in South Dakota. Spokane is fun and all, but it doesn't have a reptile zoo or a geology museum or a drug store that has turned into one of the largest and wackiest tourist traps in the country.
And I wanted to see those kinds of things. So off to South Dakota I went. And it was wonderful.
I went to Devil's Tower in Wyoming on the way. Did not manage to see any aliens, spaceships, or Richard Dreyfuss, but the National Monument is worth checking out anyway. I also stopped at Cracker Barrel in Billings, Montana because it just isn't right going on a road trip and NOT stopping at Cracker Barrel. Their breakfasts are what most breakfasts dream of being when they grow up. I stuffed myself so full of hashbrown casserole and biscuits I was fairly certain I'd never be hungry again.
Once I actually made it to South Dakota I made the most of my time there. I went to the Museum of Geology at the South Dakota School of Mines and Technology and saw some fossils and some rocks and some loud children who wouldn't stop touching things. I went to Dinosaur Park and saw some wonderfully kitschy old dino statues from the 1930s.
At Wall Drug I sat on a jackalope, ate a charburger, and looked at dozens of original paintings and drawings of John Wayne. In the Badlands I climbed up and then slid down a mountain, caught toads, poked at baby rattlesnakes, and got blown around by some epic wind. At Mount Rushmore I watched happy Germans bounce around taking pictures of the memorial, each other, and a mountain goat that had wandered by.
And at Reptile Gardens – which I will henceforth and forthwith be calling My New Happiest Place on This Part of the Earth – I hugged a giant tortoise.
In fact I hugged TWO giant tortoises. I scratched their chins, I rubbed on their shells, I messed with their enormous elephant-type feet.
It was glorious.
I also saw hundreds of snakes, some so rare that Reptile Gardens is the only zoo in America that has them in captivity. I touched a baby alligator, stuck my tongue out at a Komodo dragon, sat in on a snake show, scolded a Russian tortoise for being a bully, whistled at a parrot, and watched lizards run around together in a jungle room.
It was the most fun a goofy little reptile-lover like me could have in a day. And it was very, VERY hard to drag myself out of there when closing time came around. I was making plans to return before the car even left the parking lot.
I'm just that kind of girl, I guess.
And that wrapped up my week pretty much. Now I'll be napping until Spring to make up for all the running around I did. If I find any remaining energy to drag myself out and about in town then I'll be back next week to talk about Geek Girl meetings, used book sales, and the Inlander's Annual Manual Challenge (something I totally just made up for myself).
To pass the time until I return why don't you head out for some adventures of your own? If you're lucky you just might see me wandering around town while you're out there.
*Photos courtesy of Blake Nelson of Spokast Podcast*
This week's Adventures in Spokane brought to you by:
Café Italiano
Spokane County Interstate Fair
Cracker Barrel (Billings, Montana)
Devil's Tower (Wyoming)
Museum of Geology (Rapid City, South Dakota)
Dinosaur Park (Rapid City, South Dakota)
Wall Drug (Wall, South Dakota)
Reptile Gardens (Rapid City, South Dakota)
Badlands National Park (South Dakota)
Mount Rushmore (South Dakota)